As a librarian I love books. So, no-one would be surprised that I have a lot of books nor that I might want to have pictures of books on my walls.
In 2018 I picked up a flyer for the Hebden Bridge Open Studio weekend, an event for any artist in the Upper Calder Valley to showcase their work. A picture of a bookshelf caught my eye, it was one of Roo Waterhouse's wonderful Shelf Portraits at Northlight Studio in Hebden. I had to have one!

I went along and was amazed at the work and detail in the paintings. I bought some cards to send to friends and came away, not having bought a painting, but pondering on what my Shelf Portrait might be: the works of Virginia Woolf, the Brontës, perhaps Armistead Maupin's Tales of the City series or something nostalgic from my childhood – Enid Blyton's The Secret Seven books, or maybe? … So many ideas, I couldn't decide!
Weeks later in the Book Corner in Halifax Piece Hall, I saw some of Roo's work. I was browsing the books and contemplating the paintings when I came across the shop's Anne Lister section. Then it hit me: not my shelf portrait, but one for my mum, Helena Whitbread, for her 89th birthday – a painting, depicting all of the editions of Helena's books since 1988 to date.
Feeling very pleased with myself, I discussed the idea with my siblings. They liked it. We decided it should be all books by all authors on Anne Lister to date. My eldest sister and I went along to see Roo at her studio.
The planning took some months from initial concept to the painting's completion, because of one problem: I didn't have all the books on Anne Lister. But I knew a woman who did: Helena! So, with some surreptitious work I managed to secrete all the books on Anne Lister to my home without Helena guessing a thing. Roo came to my home and photographed them and six months later the work was ready.
On Helena's birthday in January 2019 my siblings and I presented her with the painting in front of family and friends, much to her surprise and delight. It now hangs in pride of place.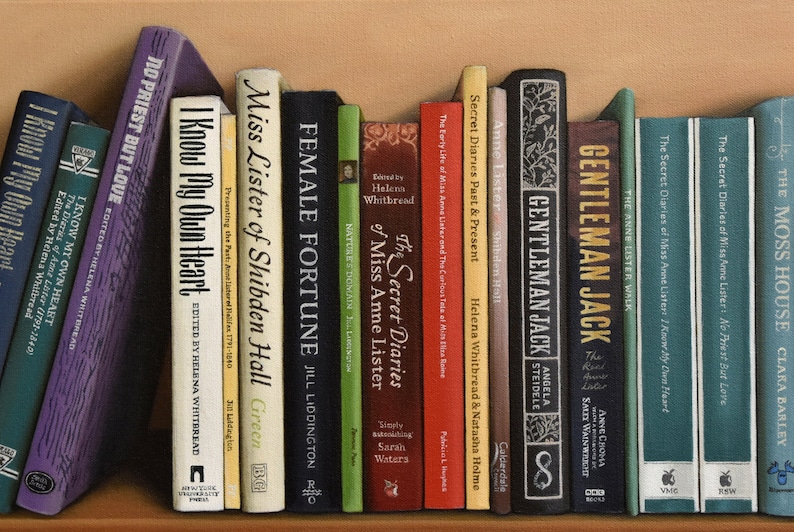 Although Helena has the original, if you want to know what's been published on Anne Lister, including the Anne Lister walk and the Shibden Hall guide book (Roo had to create a spine for these on the painting) it's all there. Roo has made some copies too, so you can send a card, write a journal in the notebook, buy a print. Or why not collect your own shelf of Anne Lister books for real?
Oh, and by the way I still haven't decided on my own Shelf Portrait. Perhaps Sarah Waters novels or my collection of female graphic novelists or maybe …?
Check out the Anne Lister Shelf Portrait: I Know My Own Heart on Roo Waterhouse's Etsy page.